We have lots of fabulous new jackets for the summer, gorgeous pretty new colours and classic blazers.
All look amazing worn with one of our white shirts or cashmere tops and jeans for a casual but elegant look. Alternatively styled with one of our new dresses, clutch bag and heels for a more chic outfit.
We will be on the road at The Suffolk Show 29th & 30th May, The House & Garden Festival at Olympia 19th to 23rd June and The Great Yorkshire Show 9th to 11th July. We do hope to see you at one of the events, but if not we are always here to assist with style and sizing advise on any online orders.
Happy Summer Outfits made easy with Laurie & Jules.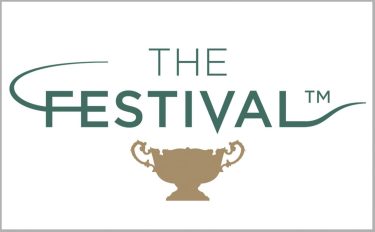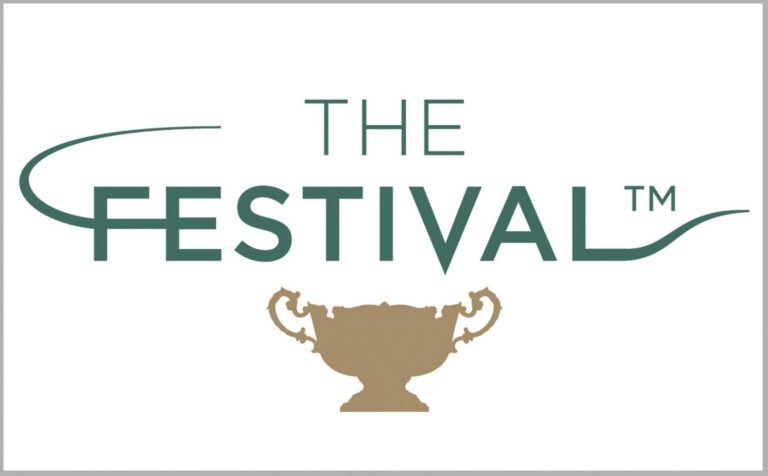 We are very much looking forward to welcoming you to our stand at The Shopping Village during The Festival at Cheltenham. It is the highlight of the Jump season with a massive crowd of over 260,000. The perfect place to dress up and look great and then to let your hair down and have some fun. Looking the part is crucial, whether you need a whole outfit or a new hat or fur collar to style and update your existing wardrobe, we are here to help. We will be launching our new season jackets, knitwear and accessories at the event, so please do make sure you come along and see us, we are Stand 58 near the glass front.
Wishing you all a very Happy New Year, we hope that 2018 brings you health and happiness.
We had an amazing time during 2017, with lots of great events. It was a marvellous opportunity to get out and about and meet so many of you, our lovely customers. We had wonderful feedback in terms of products, styles and colours. Finding out what you have enjoyed wearing and how you have worn your purchases. It was fun seeing how each of you have your own style and look, a real privilege and very rewarding! We have taken note of any requests and will try to incorporate these where ever possible.
We are working with new fabrics and shapes not only for Spring Summer 2018 but also Autumn Winter, with some great things in the pipeline. We will keep you posted through emails, social media, our website and also our social calendar. Thank you for your support over the last year, we look forward to seeing you again at some point in 2018!
We will kick start our season at The Festival at Cheltenham in March, where we will be showcasing some of our new products. We hope to see many of you there in the marvellous Shopping Village.
In the meantime we have a few seasonal offers on selected Parkas and Coats at the minute and look to bring more offers over the next couple of weeks…so do join our mailing list to be the first to find out!
We are really looking forward to exhibiting at the amazing Spirit of Christmas again this year. Where we will be showcasing our Autumn Winter Collection.
Featuring gorgeous tailored jackets and coats in a variety of elegant fabrics, tweeds and checks. A fabulous range of parkas in both leather and canvas with wonderful fur trim hoods. Hand embellished knitwear, which will take you through from day into evening. Alongside an eclectic mix of accessories to dress your outfits up. Lovely new leather handbags, jewellery and fedora hats with a collection of handmade feather pins to dress up your millinery.
Whether purchasing for yourself or for gifts, we will have something new and exciting for all. Many items at the event will not have made the website as yet, or will be a very small edition…come and take a look!
We also have some complimentary tickets, so if you are quick please email us!
We are Stand C99 at The Spirit of Christmas Fair, head for the back near the Champagne Bar!
A big thank you to everyone who visited our stand at Cheltenham Festival and made the event so memorable, we had an amazing time. It was fabulous to see so many friendly faces and to meet new customers too. Amazing sunny weather on Ladies Day ensured our lovely new Spring Summer collection was well received, but with the chillier weather towards the end of the week we saw more traditional racing attire purchased.
Our best selling items throughout the week were our Fedora hats and feather accessories and of course our new season tailored jackets…all of which are coming to the website very soon!
We can't wait for next year, but in the meantime we will be at Cheltenham again for The Open in November…look forward to seeing you then if not before!
We have lots of really lovely and luxurious new things arriving here at Laurie & Jules. Wonderful tweed, cashmere, leather and fur not to mention gorgeous new jewellery and accessories. We will be showcasing our new Autumn Winter collection at Burghley Horse Trials at the beginning of September, we are Stand B65, so do come and take a look. This is always one of our favourite events, it always marks the start of the new season, sunshine in the sky but a nip in the air…perfect for winter layering!
We are really looking forward to our first visit to the Wealden Times Midsummer Fair this week, it is held at Hole Park in Rolvenden Kent. The Fair is set in the beautiful gardens, with lots of exclusive exhibitors and demostrations, it is the perfect day out and the perfect way to shop. We are in the Green Marquee…see you there!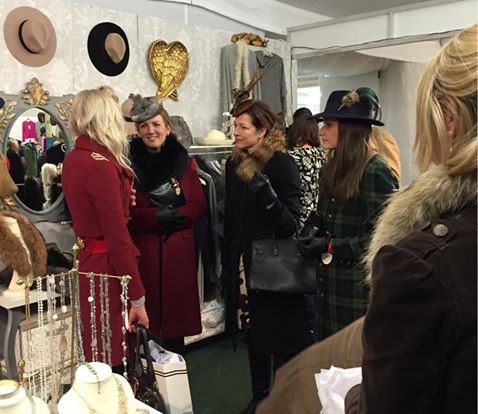 A fantastic few days at The Festival at Cheltenham last week, with the pinnacle of the sporting event being The Gold Cup, well done to winner Don Cossack. We had a really wonderful time, with so many lovely customers, ladies you all looked absolutely stunning, great to see so many hats and beautiful outfits. Our best sellers were fur accessories to keep out the bitter winds but also our new collection of Spring jackets were very popular, as people were thinking of the warmer weather ahead.
Our Spring jacket collection is now available online in all sizes.

We have some complimentary tickets for this event so please contact us if you would like a pair.
We are really looking forward to exhibiting at the Spirit of Summer, a chance to see many of our lovely existing customers and meet some new ones!
Find us at location H95. Where we will be showcasing our wonderful summer jackets and exclusive collection of leather sandals and handbags, amongst other fabulous goodies for you and the home, so do come and say hello. This is a really wonderful shopping experience, a prestigious collection of independent boutiques and designers. A chance to meet with a friend, enjoy the shopping and have a glass of champagne.
Your ticket will also include entry to: HOUSE in association with House & Garden and Olympia International Art & Antiques Fair, what could be a nicer day out?!
Here at Laurie and Jules we are celebrating this gorgeous weather and have been taking inspiration from the views over the garden.  Just in time for our latest pop- up boutique at the BBC Gardner's World Live event at the NEC in Birmingham. This will be our first show since the launch of our brand new website and we are extremely exited to have the opportunity to advertise the launch. To the show we will be bringing many new lines that we are sure you will find exciting and interesting, be sure to come and see them. We will also be running a competition for £200 of on-line vouchers.
We are located on stand S36, but there any many other attractions to see alongside us. There are talks from numerous celebrities and renowned gardeners including; Monty Don, Joe Swift, Diarmuid Gavin and Carol Klein who bought Father's Day gifts from our shop last year. Perfect again this year as Sunday is Father's Day.
In addition to this is also a grow and eat section where there is advice on growing your own allotment style of garden whatever the space, as well as a yummy Food Show with lots of goodies to sample.
This wonderful photograph by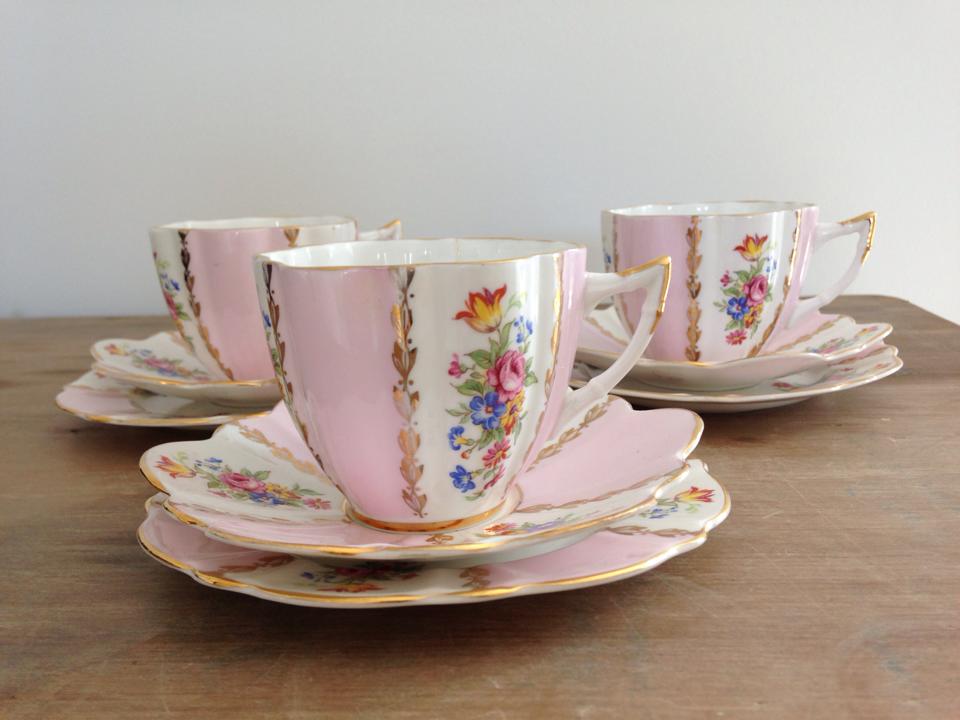 Malin Ngoie sums up a little of who we are and what we do…beautiful vintage goods, jewellery, dressing up and always keen to have fun and a cup of tea ( if there's no champagne available)  and a slice of cake!
Some delightful vintage Coclough trios which were recently sold to a lucky lady at Country Living!
Hello and welcome to our Journal. Here at Laurie and Jules we just wanted to tell you how proud we all are to have had our products selected for both the Show Guide and Banner and Poster Campaign for Country Living Spring Fair in March. Check out the delightful vintage watering can, wooden crate and gorgeous lambs wool throws, on sale on our new website.
We have also just been included in the Christmas Campaign and we look forward to seeing our products on the billboards again. Our love of vintage items and unique selection of products has lead to our inclusion in many of Country Living's advertising, this along with our success at the Country Living events, makes it a great place to showcase our goods.