We have some complimentary tickets for this event so please contact us if you would like a pair.
We are really looking forward to exhibiting at the Spirit of Summer, a chance to see many of our lovely existing customers and meet some new ones!
Find us at location H95. Where we will be showcasing our wonderful summer jackets and exclusive collection of leather sandals and handbags, amongst other fabulous goodies for you and the home, so do come and say hello. This is a really wonderful shopping experience, a prestigious collection of independent boutiques and designers. A chance to meet with a friend, enjoy the shopping and have a glass of champagne.
Your ticket will also include entry to: HOUSE in association with House & Garden and Olympia International Art & Antiques Fair, what could be a nicer day out?!
This wonderful photograph by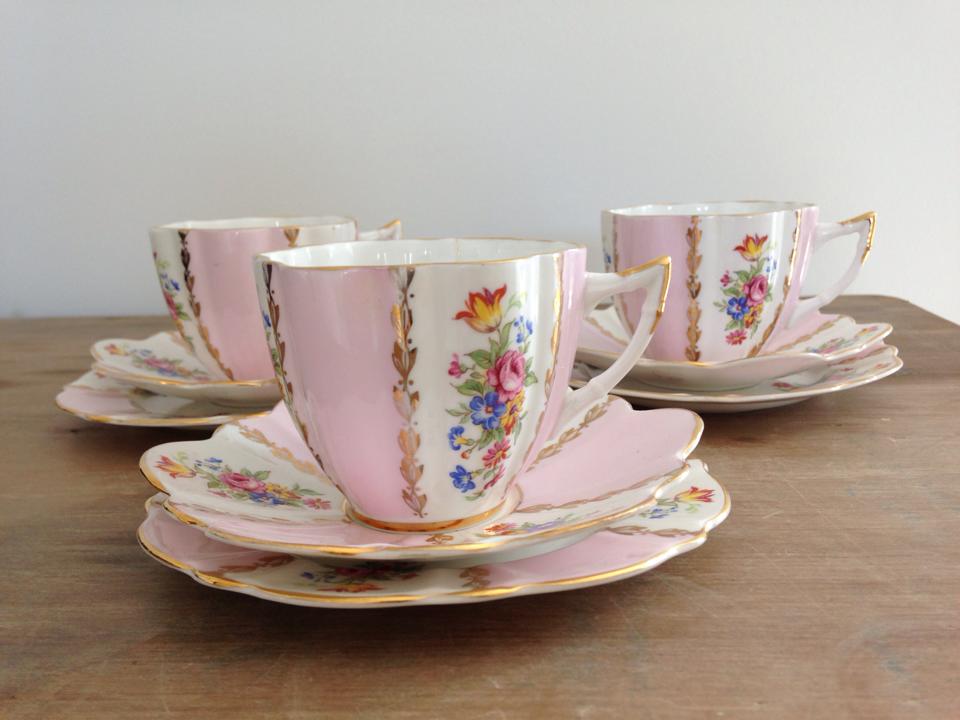 Malin Ngoie sums up a little of who we are and what we do…beautiful vintage goods, jewellery, dressing up and always keen to have fun and a cup of tea ( if there's no champagne available)  and a slice of cake!
Some delightful vintage Coclough trios which were recently sold to a lucky lady at Country Living!
Hello and welcome to our Journal. Here at Laurie and Jules we just wanted to tell you how proud we all are to have had our products selected for both the Show Guide and Banner and Poster Campaign for Country Living Spring Fair in March. Check out the delightful vintage watering can, wooden crate and gorgeous lambs wool throws, on sale on our new website.
We have also just been included in the Christmas Campaign and we look forward to seeing our products on the billboards again. Our love of vintage items and unique selection of products has lead to our inclusion in many of Country Living's advertising, this along with our success at the Country Living events, makes it a great place to showcase our goods.