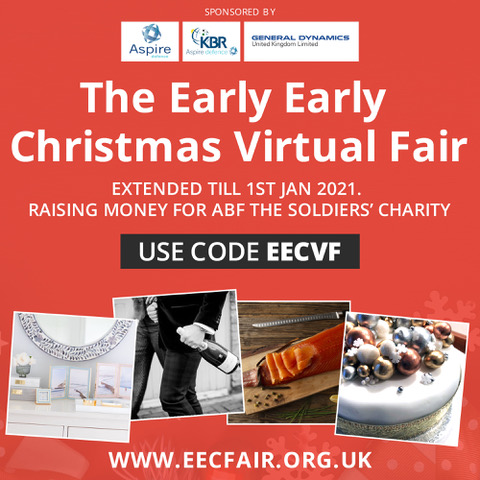 The Early, Early Virtual Christmas Fair
Location: Online
Start date: 21/09/2020
End date: 01/01/2021
Event link: https://www.eecfair.org.uk/
The Early, Early Virtual Christmas Fair, we are delighted as always to take part in the EECVF this year. It is back but it is Virtual this year!
This fair is now extended until Christmas eve 2020.  With over 130 stalls. There really is something for every passion and interest. With every purchase you make, 10% will go to the charity.
In addition we are also offering a further 10% discount to you. A thank you for supporting us and the ABF charity. It therefore makes sense to start your Christmas shopping here!
Please use the code EECVF for all shopping. Access also to all the exclusive offers, which are only valid during the event.
10% of all purchases are donated by all participating shops to ABF The Soldiers' Charity. Such a worthwhile charity. All monies raised go directly to support those soldiers in need. Your purchases do make a difference
You will find the stalls all ONLINE brimming over with fabulous stuff! Inspiring gifts and treats for everyone. Including delicious food items. Fashion…WE ARE THERE!
Personalised stationery, books and beauty products.  The list is endless. It is a great place to start your Christmas shopping.
Amazing stocking fillers,  gifts for men, women and children.